Biomedical Informatics (DBMI)
DBMI designs, implements, and evaluates informatics algorithms and systems that serve biomedical researchers, other healthcare providers, and public health professionals.
About Us

Read our latest newsletter
We are seeing an unprecedented time where technology is working through biomedical informatics to transform medicine in what the National Library of Medicine Director Dr. Patti Brennan has called 'Data Powered Health.'
Summer 2023

Our Research
Our research is focused on closing the loop from data acquisition, structuring, analysis, data-driven modeling, decision support, implementation, evaluation, and dissemination at the point of care. The end goal is to provide effective decision support that is delivered to healthcare providers, public health officials, or consumers wherever needed.
View our recent publications
Previous
Next
Our Mission
DBMI was founded in the summer of 2009; since then, it has been a Division within the Department of Medicine in the School of Medicine and, in 2015, it also became a Department of UC San Diego Health -- having the tri-partite mission of research, training, and service/collaboration.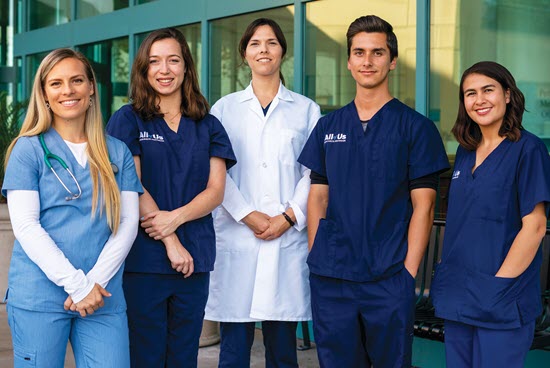 All of Us Research Program
The mission is simple. We want to speed up health research breakthroughs. To do this, we're asking one million people to share information about their health, habits, and what it's like where they live. By looking for patterns in this information, researchers may learn more about what affects people's health.
Featured Papers & Books
Johnson B, Shuai Y, Schweinsberg J, Curtius K.   cloneRate: fast estimation of single-cell clonal dynamics using coalescent theory.  Bioinformatics. 2023 Sep 12:btad561. doi: 10.1093/bioinformatics/btad561. Online ahead of print. PMID: 37699006
Kashani KB, Awdishu L, Bagshaw SM, Barreto EF, Claure-Del Granado R, Evans BJ, Forni LG, Ghosh E, Goldstein SL, Kane-Gill SL, Koola J, Koyner JL, Liu M, Murugan R, Nadkarni GN, Neyra JA, Ninan J, Ostermann M, Pannu N, Rashidi P, Ronco C, Rosner MH, Selby NM, Shickel B, Singh K, Soranno DE, Sutherland SM, Bihorac A, Mehta RL.  Digital health and acute kidney injury: consensus report of the 27th Acute Disease Quality Initiative workgroup.  Nat Rev Nephrol. 2023 Aug 14. doi: 10.1038/s41581-023-00744-7. Online ahead of print. PMID: 37580570 Review.
Keeler Bruce L, Paul P, Kim KK, Kim J, Keegan THM, Hiatt RA, Ohno-Machado L; All of Us Research Program Investigators.  Family and personal history of cancer in the All of Us research program for precision medicine.  PLoS One. 2023 Jul 17;18(7):e0288496. doi: 10.1371/journal.pone.0288496. eCollection 2023. PMID: 37459328
Boussina A, Wardi G, Shashikumar SP, Malhotra A, Zheng K, Nemati S. Representation Learning and Spectral Clustering for the Development and External Validation of Dynamic Sepsis Phenotypes: Observational Cohort Study - PubMed (nih.gov) J Med Internet Res. 2023 Jun 23;25:e45614. doi: 10.2196/45614. PMID: 37351927
Ayers JW, Zhu Z, Poliak A, Leas EC, Dredze M, Hogarth M, Smith DM. Evaluating Artificial Intelligence Responses to Public Health Questions. JAMA Netw Open. 2023 Jun 1;6(6):e2317517. doi: 10.1001/jamanetworkopen.2023.17517. PMID: 37285160
Ayers JW, Poliak A, Dredze M, Leas EC, Zhu Z, Kelley JB, Faix DJ, Goodman AM, Longhurst CA, Hogarth M, Smith DM. Comparing Physician and Artificial Intelligence Chatbot Responses to Patient Questions Posted to a Public Social Media Forum.  JAMA Intern Med. 2023 Apr 28:e231838. doi: 10.1001/jamainternmed.2023.1838. Online ahead of print. PMID: 37115527
 Wardi G, Owens R, Josef C, Malhotra A, Longhurst C, Nemati S. Bringing the Promise of Artificial Intelligence to Critical Care: What the Experience With Sepsis Analytics Can Teach Us.  Crit Care Med. 2023 Apr 26. doi: 10.1097/CCM.0000000000005894. Online ahead of print. PMID: 37098790 No abstract available. 
Wang X, Ryu J, Kim J, Ramirez A, Mayo KR; All of Us Research Program; Condon H, Vaitinadin NS, Ohno-Machado L, Talavera GA, Ellinor PT, Lubitz SA, Choi SH. Common and rare variants associated with cardiometabolic traits across 98,622 whole-genome sequences in the All of Us research program.  J Hum Genet. 2023 Apr 18. doi: 10.1038/s10038-023-01147-z. Online ahead of print. PMID: 37072623
Sponsorship Opportunities
Your generous gifts enable us to provide valuable academic and research resources and opportunities for biomedical informatics students and faculty.