Biomedical Informatics (DBMI)
DBMI designs, implements, and evaluates informatics algorithms and systems that serve biomedical researchers, other healthcare providers, and public health professionals.
About Us
Our Mission
DBMI was founded in the summer of 2009; since then, it has been a Division within the Department of Medicine in the School of Medicine and, in 2015, it also became a Department of UC San Diego Health -- having the tri-partite mission of research, training, and service/collaboration.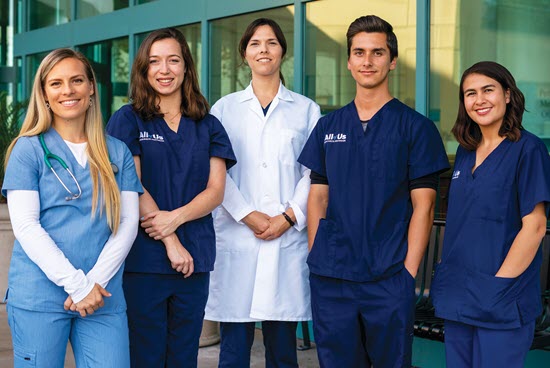 All of Us Research Program
The mission is simple. We want to speed up health research breakthroughs. To do this, we're asking one million people to share information about their health, habits, and what it's like where they live. By looking for patterns in this information, researchers may learn more about what affects people's health.
Featured Projects
New Research Center Brings Genomic Medicine to Individuals of Admixed Ancestry
Researchers at UC San Diego School of Medicine awarded $11.7 million by National Institutes of Health to identify genomic and socioeconomic factors contributing to health and disease in admixed individuals
COVID-19 Data Discovery from Clinical Records
COVID-19 Data Discovery from Clinical Records is your resource for questions and answers about COVID-19, funded by the Gordon and Betty Moore Foundation! We use electronic health record (EHR) data from 12 leading medical centers to answer simple and complex clinical questions related to COVID-19.
Sponsorship Opportunities
Your generous gifts enable us to provide valuable academic and research resources and opportunities for biomedical informatics students and faculty.