Our Mission
DBMI was founded in the summer of 2009; since then, it has been a Division within the Department of Medicine in the School of Medicine and, in 2015, it also became a Department of UC San Diego Health -- having the tri-partite mission of research, training, and service/collaboration.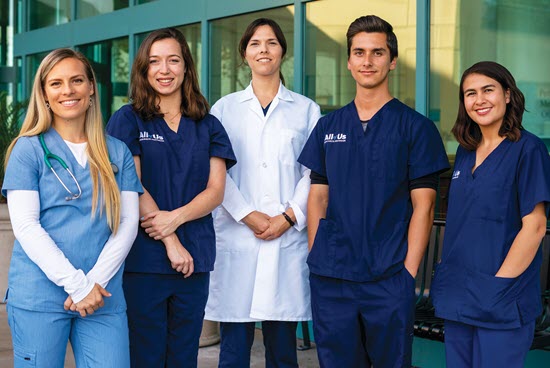 All of Us Research Program
The mission is simple. We want to speed up health research breakthroughs. To do this, we're asking one million people to share information about their health, habits, and what it's like where they live. By looking for patterns in this information, researchers may learn more about what affects people's health.
Featured Projects
New Research Center Brings Genomic Medicine to Individuals of Admixed Ancestry
Researchers at UC San Diego School of Medicine awarded $11.7 million by National Institutes of Health to identify genomic and socioeconomic factors contributing to health and disease in admixed individuals
COVID-19 Data Discovery from Clinical Records
COVID-19 Data Discovery from Clinical Records is your resource for questions and answers about COVID-19, funded by the Gordon and Betty Moore Foundation! We use electronic health record (EHR) data from 12 leading medical centers to answer simple and complex clinical questions related to COVID-19.
Featured Papers & Books
Ohno-Machado L, Jiang X, Kuo TT, Tao S, Chen L, Ram PM, Zhang GQ, Xu H. A Hierarchical Strategy to Minimize Privacy Risk when Linking "De-identified" Data in Biomedical Research Consortia. J Biomed Inform. 2023 Feb 16:104322. doi: 10.1016/j.jbi.2023.104322. Online ahead of print. PMID: 36806328
 Rogers P, Boussina AE, Shashikumar SP, Wardi G, Longhurst CA, Nemati S. J Med Internet Res. Optimizing the Implementation of Clinical Predictive Models to Minimize National Costs: Sepsis Case Study. 2023 Feb 13;25:e43486. doi: 10.2196/43486. PMID: 36780203
Lee TC, Radha-Saseendrakumar B, Delavar A, Ye GY, Ting MA, Topilow NJ, Bass J, Korn BS, Kikkawa DO, Baxter SL, Liu CY. Evaluation of Depression and Anxiety in a Diverse Population With Thyroid Eye Disease Using the Nationwide NIH All of Us Database.  Ophthalmic Plast Reconstr Surg. 2023 Jan 24. doi: 10.1097/IOP.0000000000002318. Online ahead of print.  PMID: 36727790
Fatemeh Amrollahi, Supreeth P Shashikumar, Angela Meier, Lucila Ohno-Machado, Shamim Nemati, Gabriel Wardi, All of Us Data Helps Better Predict Hospital Readmission for Patients With Sepsis, National Institue of Health All of Us Research Program, October 4, 2022
Fatemeh Amrollahi, Supreeth P Shashikumar, Angela Meier, Lucila Ohno-Machado, Shamim Nemati, Gabriel Wardi, Inclusion of social determinants of health improves sepsis readmission prediction models, Journal of the American Medical Informatics Association, Volume 29, Issue 7, July 2022, Pages 1263–1270
Transforming Biomedical Informatics and Health Information Access: Don Lindberg and the U.S. National Library of Medicine, 978-1-64368-238-9 (print) | 978-1-64368-239-6 (online)
Sponsorship Opportunities
Your generous gifts enable us to provide valuable academic and research resources and opportunities for biomedical informatics students and faculty.